The most authentic way to protect yourself.
Ghost Mask
protection can be that simple
The mask behind the neck gaiter or the balaclava is done. Thanks to the special cut and weaving technique, the mask is held reliably and without stress without additional attachment.
Ghost Mask
Fortis V2
The Fortis V2 with a facelift. With the revised shape, wearing larger glasses is no longer a problem. The metal was strengthened again with different methods.


TO BUY
Ghost MASK
NECK-GAITER V3
Bei der neuen V3 Version wurden Schnitt und Material überarbeitet. Dadurch ist sie noch komfortabler und haltbarer als zuvor. Der Mundbereich besteht aus einem 360° elastisch verstärktem Polyamid/Nylon Gemisch. Daher ist sie im Vergleich zur älteren Version widerstandsfähiger und weniger anfällig für Fadenzieher oder Risse.


KAUFEN
ghost bag
SPAWNBAG 1.0

Der RUCKSACK für den Airsoft.
Spawnbag ist die perfekte Ergänzung zu AVARUS 3.0. Alles, was Sie zum Spielen brauchen, ist direkt da – und alles ist immer griffbereit. Dank der zahlreichen Außentaschen können Sie schnell auf das zugreifen, was Sie öfter benötigen, ohne jedes Mal die gesamte Tasche öffnen zu müssen
BALD ERHÄLTLICH
ghost bag
AVARUS 3.0

Der Koffer für den Airsoft.
Endlich hast du alles für den Spieltag in einer einzigen Tasche. Individuell anpassbar dank verstellbaren Trennwänden und Schnallen. Nie mehr schleppen, sondern rollen.
Kaufen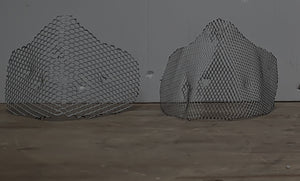 It was a long way, but it was worth it. Many different materials and shapes had to be tested before the compromise between durability and comfort was reached.

Our mask was fired at with 0.28g BBs and an energy of 1.95 joules from a distance of 5 meters.

In direct comparison to a standard protective mask, the contours of the Ghost are barely visible. Like wearing no protection at all. Just Ghost!
About me

I am a passionate airsoft player. But in my airsoft career I had to realize again and again that not everything that comes off the peg is good. That's why I started experimenting early on to improve my equipment individually. I would now like to share my results with you!