The most authentic way to protect yourself.
Ghost Mask
Fortis V2
The Fortis V2 with a facelift. With the revised shape, wearing larger glasses is no longer a problem. The metal was strengthened again with different methods.


TO BUY
Ghost Mask
protection can be that simple
The mask behind the neck gaiter or the balaclava is done. Thanks to the special cut and weaving technique, the mask is held reliably and without stress without additional attachment.
Ghost Cap
Ghost Cap
Einstellbarer und atmungsaktiver Operator Mesh Cap. Ideal für heiße Sommertage.
Kaufen
Ghost Cap
SEAL TEAM CAP
Seal Team Cap mit Logo. Wahlweise mitStretch oder verstellbarer Schnalle.
Kaufen
GHOST BAG
<tc>AVARUS 3.0</tc>

AVAILABLE FROM APRIL 2023
The case for the Airsoft. Finally you have everything you need for game day in one single bag. Customizable thanks to adjustable dividers and buckles. No more towing, just rolling.
JETZT VORBESTELLEN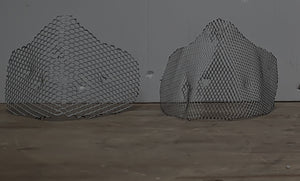 It was a long way, but it was worth it. Many different materials and shapes had to be tested before the compromise between durability and comfort was reached.

Our mask was fired at with 0.28g BBs and an energy of 1.95 joules from a distance of 5 meters.

In direct comparison to a standard protective mask, the contours of the Ghost are barely visible. Like wearing no protection at all. Just Ghost!
Ghost Mask
fortis
The best Ghost Mask we've ever made comes in premium quality.


About me

I am a passionate airsoft player. But in my airsoft career I had to realize again and again that not everything that comes off the peg is good. That's why I started experimenting early on to improve my equipment individually. I would now like to share my results with you!